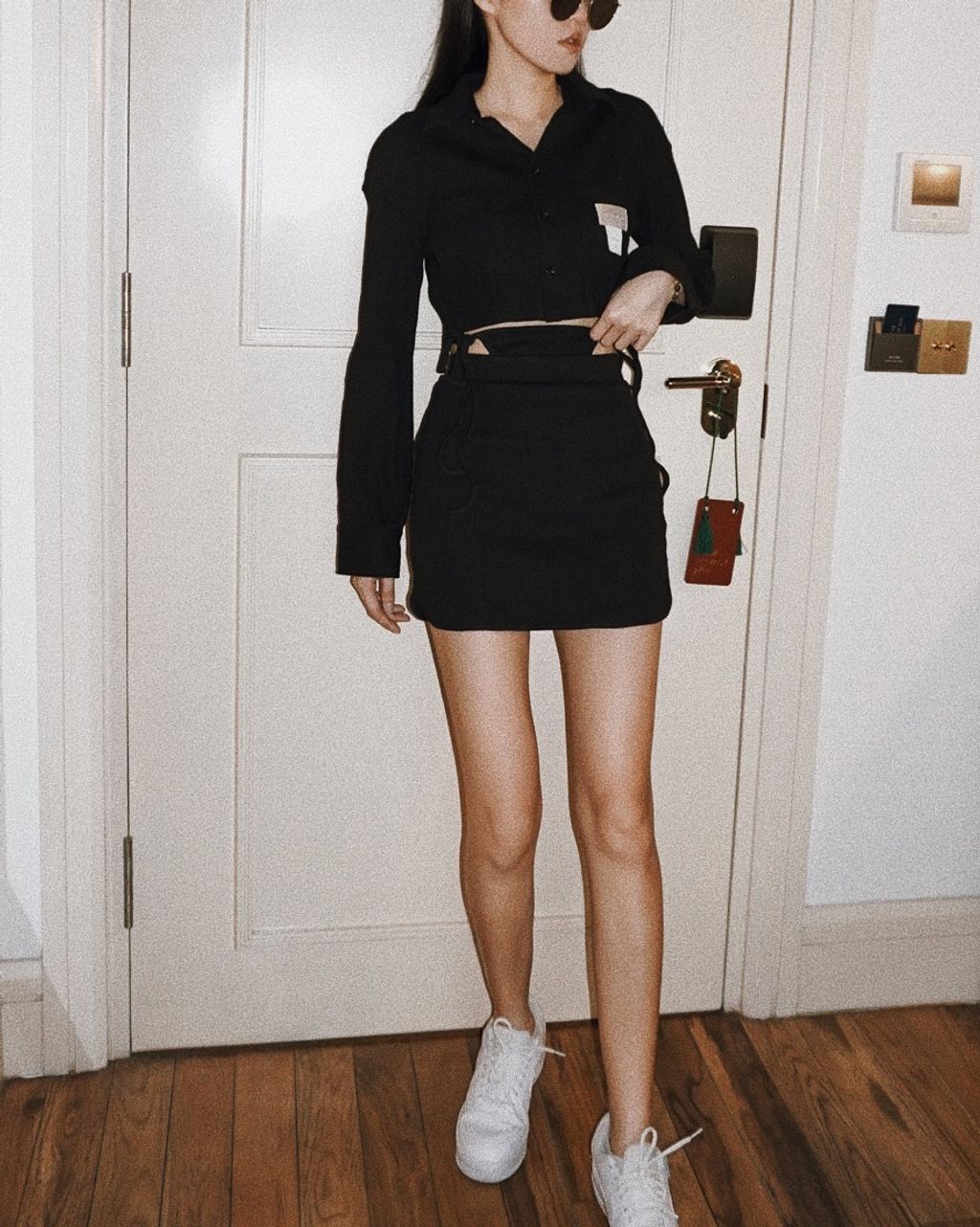 CHENLABEL
Description
一套售賣 平日還可分開搭配 / 彈力螺紋面料 / 面料完全不會薄透 厚薄度適中 短裙內加了件很舒適的防走光小短褲在裡面 / 上衣是短版的設計 版型微寬鬆有彈性 / 裙子是超高腰圍的兩側係帶可自由係綁 裙擺小圓弧度
Sizing
Size S/M
S - bust 88cm+, shoulder 51cm, top length 37cm, waist 61cm-68cm, hips 83cm+, length 38cm
M - bust 92cm+, shoulder 52cm, top length 38cm, waist 63cm-72cm, hips 88cm+, length 39cm
Fabric: Polyester+Rib+Cotton | Stretchable: yes | Colour: White
All dimensions are manually placed measured in centimeters (cm)
The size may vary depending on measurement method 1-3cm.
Size S fits for
Chest cup A-C / Waist *highwaist* 60cm-66cm+ (22in-25in) / Hips 83cm-93cm
Size M fits for
Chest cup C-E / Waist *highwaist* 66cm-72cm+ (25in-28in) / Hips 88cm-98cm
Model Information
Liz's 170cm 47kg
Shoulder 43cm | chest 84cm | waist 64cm (24-25 in) | hips 86cm
Chen Set wearing size S.
Additional detail
wash + care
DO NOT BLEACH
DRY CLEAN RECOMMENDED
DO NOT SOAK
WASH SEPARATELY
HAND WASH WITH COLD WATER
IRON LOW HEAT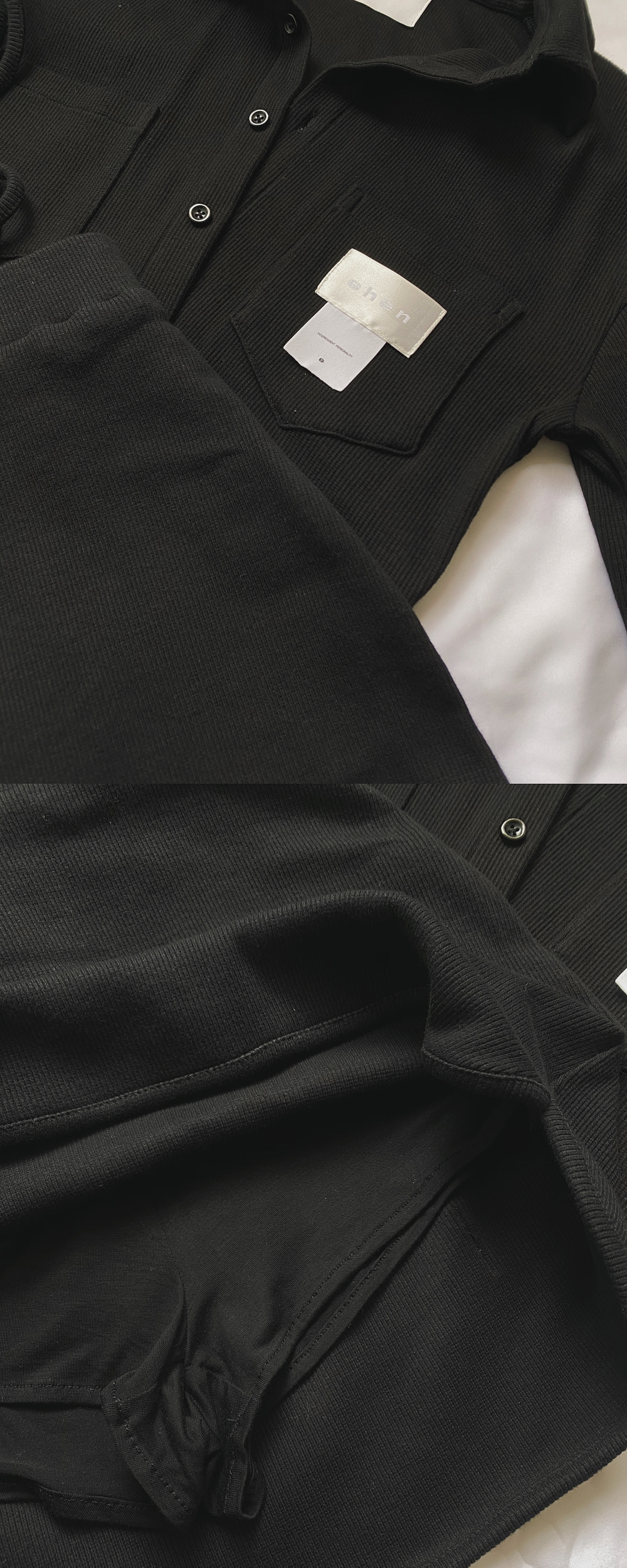 (裙內有防走光短褲)
Notice
Please read before purchase.
About Working Days
Please join only if you are comfortable with the wait. Email will be sent to customer if the backorder is delayed for more than working days from the stated arrival date.
Thank you for your kind patience and understanding on this matter.
Ready Stock orders will be fulfilled within 1-7 days, from day of order.
Backorder orders will be fulfilled within 14-30 days, from day of order.
Working days not including weekend and public holiday.
Some Backorder item will take different working days, Will notice at item page "Stock Available".
Please make a purchase only if you are alright with the waiting time.
If other in-stock items are placed together in the same order, all items will only be dispatched when the backorder item arrives.
Please placed separately order of Ready Stock and Backorder items if you want to receive the ready stock item first.
About Clothes Notice
- It is recommended to follow youe usual shopping and dressing habits to take your size, height and weight of individuals do not related to sizes directly.
- Due to differences in fabric elasticity and desgin, the exact measurements vary with each style +/- 3cm is tolerated and should not be considered as flaw.
- The color of the product will be slightly different due to personal screen settings, please refer to the actual color of the product.
- Please wash your light and dark clothes separately. Do not soak your clothes, we recommend to put your clothes into laundry bag while being machine washed.
- Backorder item may be out of stock after placing an order, please make a purchase only if you are alright with it.
No Exchange, Return and Refund
For Local orders and Oversea orders. No exchange, Return and Refund after orders is successful placed.
Refunds are accepted provided item have met our terms and conditions.
We only accept refunds for Ready Stock / Backorder item is out of stock,
Refunds will be provided in the form of Store Credit only.
There will not be cash refund, Sorry for any inconvenience.
Please refer to our Terms and Conditions for more details.
Please refer to our Terms and Conditions for more details before placing an order.
Unauthorized use of images on this website is strictly prohibited and can result in civil and criminal penalties.